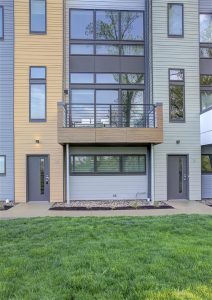 Step into a unique/modern Eco-Home Condominium unlike any other in Fairview Park, Ohio. Built by Brickhaus ClearSpan Construction, these stunning Condos provide an appealing luxurious lifestyle at an affordable cost. Constructed with the busy lifestyle in mind, RiverSouth Condos are placed on the edge of the Rocky River Reservation Cleveland Metroparks, allowing homeowners the luxury of experiencing the best nature walks and trails that Rocky River has to offer!
Each unit's interior was uniquely constructed to the specification of the client with Clearspan Construction, making them all customized in a special way. Some units were constructed with the most advanced technology, including smart home .  This allows homeowners to control heating and air with their smartphone. RiverSouth Condos offer a 7-Year 100% Tax Abatement that began on the original owners sale date.
Located in the Fairview Park City School District, RiverSouth Condominiums provide an excellent location to enjoy the outdoors. Within walking distance of Fairview Park Hospital, restaurants, entertainment, and the Cleveland Metro Parks, RiverSouth allows each homeowner to live the active lifestyle they desire. These modern eco-homes are a unique opportunity so contact My Cleveland Condo today for more information!

Back to Fairview Park Condos